LEASING

STC Creation Center

Once a property is purchased, leasing and management are the activities that preserve and enhance value. Tenants symbolize the soul of an income property, as they provide not only cash flow to the investor, but also represent the value of the property. At STC, the leasing division's goal is to bring together qualified tenants and appropriate spaces, so that tenant businesses will develop and grow, ultimately benefiting the owner of the particular property. Our five-fold approach sets us apart from competition and ensures not only success, but added value for years to come. The following outlines the approach that our leasing team practices:
STC Asset Value Creation Framework
The most ADVANCED technological tools (Yardi, CoStar, STDB, etc.)
The most RECOGNIZED and RESPECTED commercial real estate firm serving Asian communities in Southern California
The most QUALIFIED team of professionals and experts (AMO)
The most SEAMLESS integration between leasing and management
The most CONNECTED networks and MEANINGFUL relationships
STC Asset Value Creation Framework is comprised of multiple layers of interconnected, systematic, and evolving processes that are aimed to enhance the value of real estate properties.
These processes include:
Initial consultation to understand Owner, subject property, Owner's investment goals and expectations, and Owner's current and future circumstances
"Hour Glass Leasing Strategy" to eliminate the vacancy of Subject Property
Management to garner long term loyalty and satisfaction of tenants
Media Promotion and Public Events to massively catapult the brand and recognition of Subject Property through STC's media coordination, event planning expertise and engagement of local community
Positive Asset Value Loop transform Subject Property from an address to a destination
Initial Consultation.
Before STC engages in the leasing and management of your property, it is that important we understand Owner's background. Everyone's situation and investment objective is different, and the value of our service and the benefits one receives from it are only as significant as the level of our mutual understanding and objective alignment.
Synergy
Additionally, we will conduct in-depth research and assessment of Subject Property. Owner will receive a complete report of the demographic, spending habits, traffic counts, market potential, and market tapestry / segmentation upon the completion of our initial consultation.

Hour Glass Leasing Strategy: 萬中選一 以一致萬. The "Hour Glass Leasing Strategy" was developed to both demonstrate how STC secures the right tenants, and to illustrate how a single tenant can add tremendous value to Subject Property.

The name of this strategy, called "Hour Glass", came from the shape of the illustration of our systematic and strategic approach to leasing: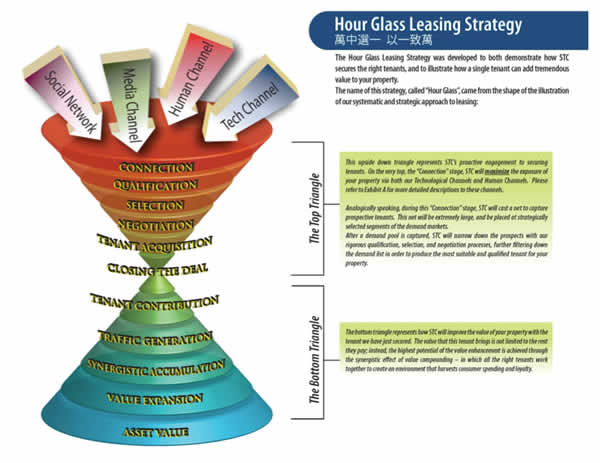 Upon listing Subject Property, STC will conduct a thorough inventory analysis of all properties in the area. As we move forward with the leasing effort, STC will continue to gather and update this information on a regular basis. This information will allow us to determine vital market trends such as asking rents, absorption rate, and supply/demand of spaces. Utilizing the information gathered through the Dynamic Market Tracker, we could then derive a Market Health Index, which will be a vital indicator on how our leasing tactics will be structured to maximize success rate.

For more information, please contact leasing@stcmanagement.com