NEWS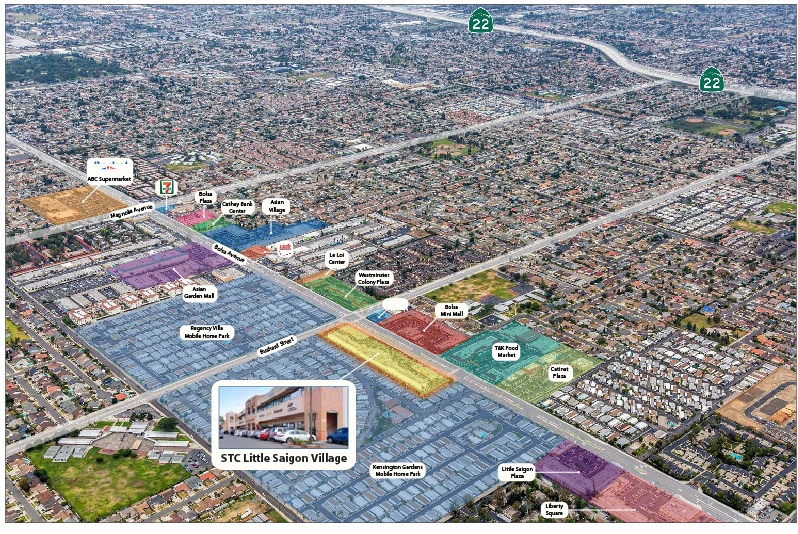 Bank

| | | |
| --- | --- | --- |
| Building | Unit# | |
| 9550 | 115B | WELLS FARGO |

Beauty

| | | |
| --- | --- | --- |
| Building | Unit# | |
| 9500 | E | BALLI CORPORATION |
| 9550 | 102 | BOLSA HAIR DESIGN |
| 9550 | 105 | LITTLE SAIGON BEAUTY SUPPLY |
| 9500 | C | LONG MI LASHES BY DANIEL |
| 9550 | 223 | LONG MI LASHES BY DANIEL |
| 9550 | 221 | LONGMI LASH |
| 9550 | 110 | MODERN BEAUTY SALON |
| 9500 | F & K | POSE HAIR SALON |
| 9550 | 214 | RELUMA HEALTH AND BEAUTY |
| 9550 | 127 | THIEN VU JEWELRY  |
| 9600 | D | MIRAKO  |

Boutique

| | | |
| --- | --- | --- |
| Building | Unit# | |
| 9550 | 122 | FINE VIE |
| 9600 | I | Mindy Fashion Inc,  |
| 9550 | 128 | THU ALLTERATION AND DRY CLEAN |
| 9550 | 116 | TUYET FASHION |

Radio

| | | |
| --- | --- | --- |
| Building | Unit# | |
| 9550 | 212 | Viet News Radio |

Eateries

| | | |
| --- | --- | --- |
| Building | Unit# | |
| 9550 | 129 | CAFÉ ANH DAO |
| 9600 | A | CORNER VIEW |
| 9600 | N | KASEY NOODLES & GRILL |
| 9550 | 108 | LOLLICUP TEA ZONE  |
| 9550 | 125 | LONG HOA |
| 9600 | M | LUC DINH KY 祿鼎記 |
| 9600 | G | SNOW MONSTER |
| 9550 | 115A | THANG LONG RESTAURANT |
| 9550 | 115F | THE KING CRAB |
| 9550 | 115E-1 | YUMMY BAKERY RESTAURANT |
| 9500 | B & H | COM TAM QUE HUONG GRILL & NOODLES |

Market

| | | |
| --- | --- | --- |
| Building | Unit# | |
| 9550 | 101 | MINH SON GENERAL MERCHANDISE |
| 9550 | 115E | CHO TAM BIEN |
| 9550 | 115D | FARMER MARKET |
| 9550 | 123 | GIAI PHAT FOOD CO. 佳發食品公司 |
| 9550 | 115C | MAI ANH FOOD TO GO MARKET |

Medical

| | | |
| --- | --- | --- |
| Building | Unit# | |
| 9600 | L | CONSOLIDATED MEDICAL BIOANALYSIS, INC (CMB) LABORTORY |
| 9600 | K | CONSOLIDATED MEDICAL BIOANALYSIS, INC (CMB) LABORTORY |
| 9600 | F | B.S. PHAM V. HOANG MD |
| 9500 | I & J | DOANH ANDREW NGUYEN M.D. INC. |
| 9600 | E&J | DOUGLAS NGUYEN DDS |
| 9550 | 218-219 | KID'S DENTAL |
| 9500 | P | MAI PHAN MD |
| 9500 | M | NGUYEN VINH PHUC , M.D. |
| 9500 | A1 | PHAM TRUNG NGOC PHAM M.D. |
| 9600 | C&H | HORIZON OPTOMETRY |
| 9500 | N | LINH'S PHARMACY II |

Retail

| | | |
| --- | --- | --- |
| Building | Unit# | |
| 9550 | 103 | PHAT TAI |
| 9550 | 111 | ROSA .FLORIST |
| 9550 | 113-114 | MINH FUNG  |
| 9550 | 119 | TINH NHO MUSIC & ANGEL HAIR COLLECTION |

School

| | | |
| --- | --- | --- |
| Building | Unit# | |
| 9550 | 206 | SK EDUCATION CONSULTING GROUP |
| 9550 | 210 | TRUNG TAM DAY KEM QC LEARNING CENTER |

Services

| | | |
| --- | --- | --- |
| Building | Unit# | |
| 9550 | 120 | THE ONG LOC |
| 9550 | 126 | U.S. TOURS SERVICES |
| 9500 | A | TRUNG TAM ASIA, ASIA ENTERTAINMENT, INC RETAIL STORE |
| 9550 | 201 | KUNG FU MASSAGE |
| 9550 | 202 | KUNG FU MASSAGE |
| 9550 | 121 | DELUXE CARGO |
| 9550 | 104 | DIAMOND STAR INSURANCE / NOTARY SERVICE |
| 9550 | 107 | LBH WIRELESS |
| 9500 | D | BEAUTIFUL WEDDING PHOTOGRAPHY |
| 9550 | 216 | BOLSA REAL ESTATE |
| 9550 | 209 | DUC HONG VUONG INSURANCE |
| 9550 | 109 | EXPRESS AUTO REGISTRATION INSURANCE SERVCES |
| 9550 | 228 | FARMER'S INSURANCE |
| 9550 | 213 | FIRST STAR GALAXY INC |
| 9550 | 118 | LUCKY FEET FOOT MASSAGE |
| 9550 | 215 | LUCKY FEET FOOT MASSAGE |
| 9550 | 207 | RELIANT LAW GROUP LAW OFFICE |
| 9550 | 211 | SAIGON INSURANCE |
| 9550 | 203 | T&H LEGAL SERVICES |
| 9550 | 226 | THAI TRUNG & ASSOCIATES  |
| 9550 | 220 | |
| 9550 | 208 | ATL INSURANCE |
| 9550 | 217 | HAO BEINH INSURANCE |
| 9550 | 112 | KIM EXPRESS |
| 9550 | 205 | PEOPLE FINANCIAL |
| 9550 | 225 | THE FOREMOST LAW GROUP, APC |
| 9550 | 204 | FINANCIAL PARTNERS  |

About Little Saigon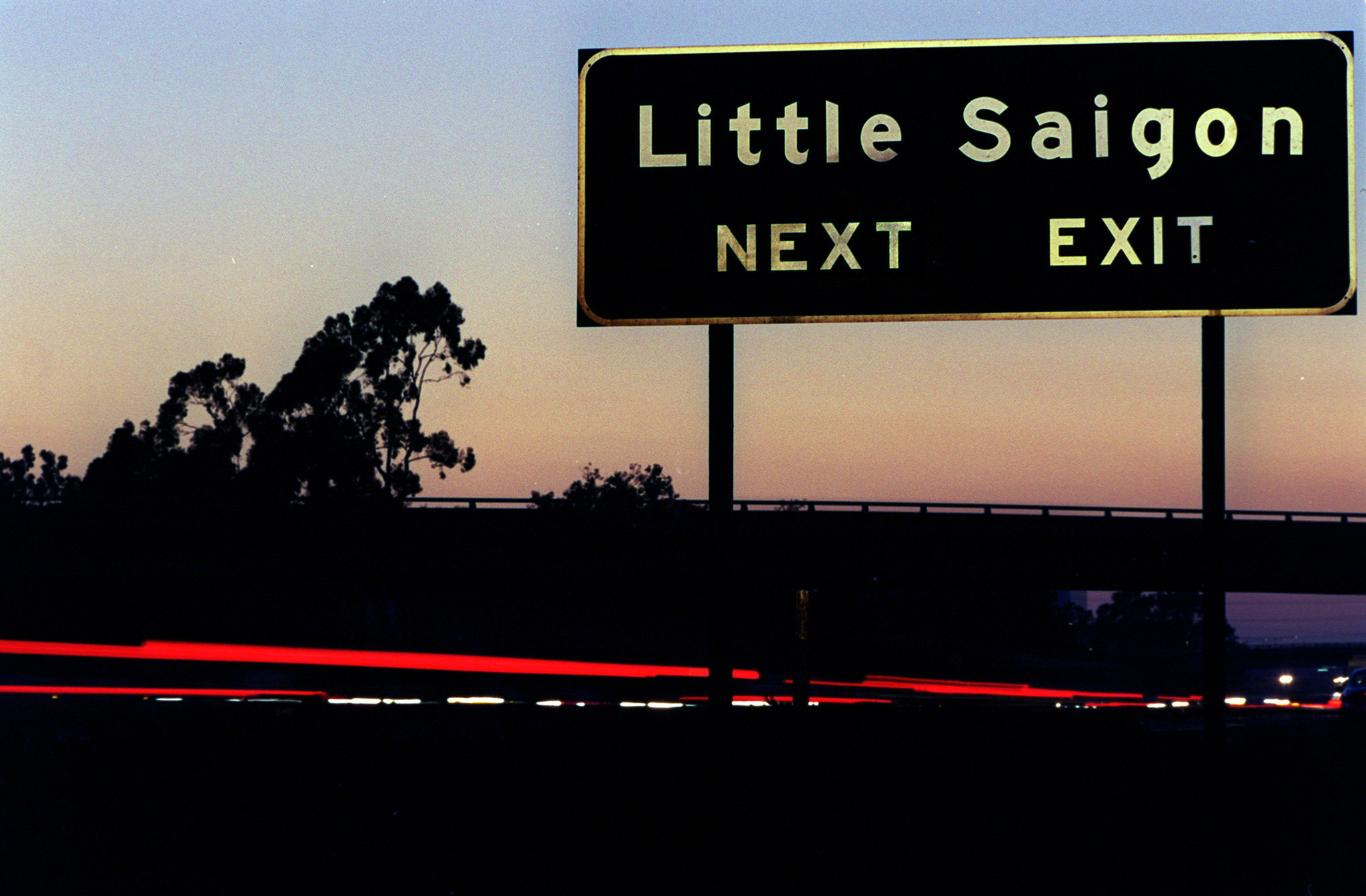 On June 17, 1988, California Governor, George Deukmejian, officially dedicated the name "Little Saigon" to the area bordered by Westminster Boulevard, Bolsa Avenue, Magnolia Street, and Euclid Street.
The Little Saigon – hub of the world's largest enclave of Vietnamese outside of Vietnam. Orange County's Little Saigon offers Vietnamese-Americans a slice of the original Saigon – with Vietnamese architecture and festivals, Vietnamese doctors and herbal medicines; Vietnamese temples and television stations.
Signature Events at Little Saigon
Night Market

The Little Saigon Night Market drew the masses: elders remembering their youth, young Vietnamese-Americans taking selfies and getting their bad Vietnamese challenged at nearly every stall, and more than a few non-Viets curious to see if the event had the hipster caché of the San Gabriel Valley's 626 Night Market, which jump-started the idea of mass open-air bazaars and just recently did a one-off at the Orange County Fairgrounds. These markets are the natural progression of the gathering of food trucks that has been a fad in Southern California the past couple of years: Not only does it provide folks who can't afford a luxe lonchera a stall to hawk their wares, but it allows ethnic enclaves a chance to show themselves off to outsiders who might not otherwise want to visit.
Annual Flower Festival

Little Saigon celebrates Annual Flower Festival with a New Year shopping experience exhibiting the largest gathering of fresh mai flowers, cherry blossoms, orchids and many more flowers, plants & trees, a wide selection of exotic fruit, traditional arts and crafts, authentic new year cuisine, and over 300 stores inside the mall including the popular Jewelry Center. Food vendors bbqing nightly starting at 6pm. Live entertainment daily from 5-9pm.